Digital Manufacturing Solutions That Drive Innovation and Improve Profitability
aPriori is helping design and manufacturing teams around the globe create the products of the future. Get actionable insights to improve manufacturability at every stage of your product lifecycle. Simply upload your CAD files into aP Pro and our digital factories will run a detailed simulation of the manufacturing process in a fraction of the time it takes with manual calculation methods
Our goal? Help you to develop innovative new products that meet or exceed customer requirements while at the same time improving your product profitability.
aP Pro is the flagship product of our digital manufacturing simulation software portfolio, the result of more than two decades of industry research and development.
---
aP Pro allows your product design, engineering, cost engineering, sourcing and manufacturing organizations to identify and eliminate manufacturing cost drivers at the point of origin.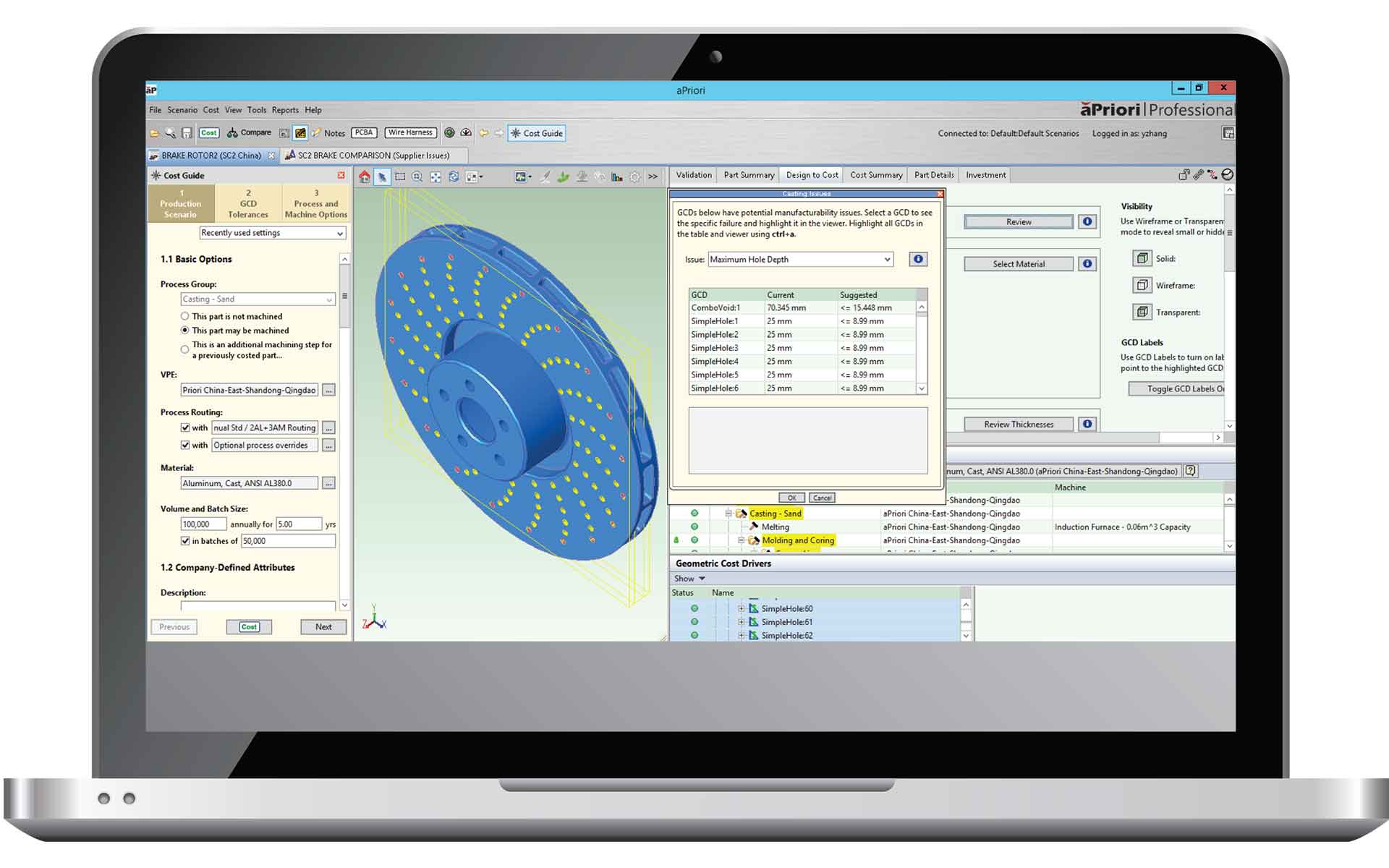 Geometric Analysis Streamlines Simulation
Run manufacturing simulation quickly and accurately. aPriori automatically pulls features straight from the geometry of your 3D CAD files to dramatically reduce the amount of input needed to run a manufacturing simulation.
Automated Routing Optimization Engine
Imagine a world where you can quickly and auto matically run a product design through every possible routing in your factory to see which approach offers the most cost-efficient answer. aPriori does this in seconds.
Digital Factories
Simulate the manufacturing process with digital factories. Use cost models and regional data libraries to parse manufacturing processes, allowable sequences, feasibility rules, material compositions, machine capabilities and much, much more.
Physics-Based, Mechanistic Manufacturing Cost Models
aPriori's Digital Factory has more than 300 automated cost models to simulate the manufacturing process as if it were taking place in the physical world. Virtually consider material hardness, the speed of the manufacturing process, the cost of the tooling, material utilization, and more to calculate cycle time and then convert that data into monetary value.
Understand Geographic Cost Variability
aP Pro currently leverages Regional Data Libraries to calculate product cost that includes region specific economic data (like labor rates and overhead costs) for 79 regions of the world.
Enhanced Design to Cost Capabilities
Set and monitor target costs all in one place. aPriori's design for manufacturability (DFM) and design to cost (DTC) capabilities identify cost drivers early in the design process before they are compounded with increasing levels of detail in the design model. Alter the design, and aPriori automatically updates the manufacturing cost model and compares it to the target.
Real-Time Manufacturability Guidance
Alert system users to potential manufacturability issues immediately. Then, get on-screen practical guidance on how to eliminate the design problem.Have you designed a sharp corner in a pocket? aPriori will recommend adding a fillet to the corner.
A Single Database Architecture
Say goodbye to scattered data points, spreadsheets, and CAD files. Access your product and manufacturability details from anywhere and know that you are leveraging a consistent set of cost models and data. Enable collaboration and keep cost methodology consistent.
See aP Pro in action
aP Pro can be configured on-premise or as a cloud-based solution. Explore how you can design the products of the future in less time with aP Pro. Book a personalized demo today.
"Leveraging the detailed manufacturing cost model we got from aP Pro, we were able to initiate a productive conversation with our supplier. Together, we re-examined the actual manufacturing process and pinpointed hours of unnecessary weld-grinding time that was driving the difference. This time was eliminated, the price for the part was ultimately reduced by about $450 per unit, and our relationship with the supplier was strengthened."
–Solar Turbines
aP Pro | Reduce product costs, carbon footprint, and manufacturing risks
Regional Libraries for Geographic Cost Variability
Woodward & aPriori: Address Labor Shortages with Digital Transformation
Before you go, drop us a line.
Can a single form submission change your life? Maybe not. But it is the start of your digital transformation.
×